News from The Day
12 July 2022
Join our Celebration Day Watch Party
Wonderful writers from around the world put pen to paper to enter our Celebration Day competition. The very first Celebration Day took place on 26 June 2022 and The Day was so proud to support this day of remembrance. 
Now we have a very special Celebration Day premiere taking place on Wednesday 20 July 2022 at 2 PM BST where you can see Harriet Walter, Lennie James, and Gemma Arterton congratulate the winners and read excerpts from the winning entries. Tune in here and make sure you click the notification bell, so you know when the video goes live.
You can view the full winning entries in our online gallery here who were all chosen by The Day's editors, and these winners will receive a £100 Amazon voucher, an iPad, a £500 Amazon voucher for their school and a certificate.
Congratulations to our category winners:
Age 5-7: Arjun Anand-Kumar, Weston Favell CE Primary School
Age 8-10: Ara Irvine, Cluny Primary
Age 11-13: Liam Merchant, Winchmore School
Age 14-16: Aradhya Saxena, Abu Dhabi Indian School-Al Wathba
Age 17-18: Thea Hamor, Bacup and Rawtenstall Grammar School
Teacher: Wendy Mackenzie, Dartford Grammar Girls School (DGGS)
Over 500 entries were submitted, with students and teachers required to interview the oldest person they know about who inspired them. Then entrants were challenged to retell the story in the most creative way possible.
It formed part of the wider celebrations to remember people who shaped our lives and celebrate the joy they brought to our lives. Click here to find out more about Celebration Day.
20 June 2022
Child refugee wins climate journalism award
A child refugee living in Uganda has won a prestigious global journalism award against competition from some of the most expensive private schools in the world.
All ten categories were won by girls, though entries came from an almost equal mix of girls and boys.
Francoise Khyla, aged 13, a refugee from the Democratic Republic of the Congo, won the Climate Journalist of the Year category last Friday in the finals of the 2022 Global Young Journalist Awards.
Though still at primary school in the settlement, her entry was a passionate and articulate video urging her fellow refugees in Uganda's vast Nakivale Refugee Settlement to clean up plastic waste and plant more trees.
She now wants to go on to a career as a television reporter.
She wrote the script herself in English during the evenings after school using what she describes as "my own ideas that I thought myself". She learned the text by heart and performed it in a single take to a phone held by her mentor Augustine Rusagara, 30, a former security officer and now a community support officer for the charity Hello World.
The Global Young Journalist Awards were launched by The Day, a daily online newspaper for schools, for the first time this year. Entries were received from over 500 children from countries including Cyprus, Czech Republic, Turkey, the US, the UAE, Zimbabwe, Uganda, India, China, Spain, Italy, Thailand, Singapore and all parts of the UK.
The award for Francoise Khyla, the only one in the Global Young Journalism Awards for children at primary school, means her video is being championed by awards judges including Tina Fey the US comedian and actress, Damilola Ogunbiyi the UN secretary-general for sustainable energy, broadcaster Afua Hirsch, Sky TV's science and technology editor Tom Clarke, and BBC World Service gender and identity correspondent Megha Mohan.
She will get a week's work experience in the newsroom of the Uganda Broadcasting Corporation in Kampala.
Her trophy and certificate will be on show in the three-room brick and mud house that she shares with her parents, three brothers and two sisters. The family has no mobile phone, no electricity, no transport and no running water. The UN gives an allowance of under £3 a month per person for all needs including water, food and shelter.
"Some days we eat. Some days we don't." says Francoise. "Sometimes I am hungry."
Most days, she is up at 6:00 to wash plates before walking to her primary school in the settlement by 7:30. She comes home at 12:30 for a lunch of matoke, mashed green bananas before returning to school at 1:00. Home by 4:00 she spends the rest of the day revising before washing her uniform and leaving it out to dry for the morning.
Her achievement is all the more remarkable since she was competing against students from some of the most privileged backgrounds in the world.
Other awards this year were won by UK students from some of the country's leading private schools where annual fees for a single pupil exceed £20,000 a year.
These included London schools Haberdashers' Girls' and Francis Holland and St Helen's Northwood. Outside London, students from Bedales, Dame Allan's School Newcastle and West Buckland School in Devon all won categories.
International students who won or were runners-up entered from some of the world's most prestigious private schools including Escuela Bilingüe Internacional in Oaklands, California; GEMS Cambridge International School in Abu Dhabi; Peterhouse Girls' School in Zimbabwe and TLC School in Cyprus.
At a live prize-giving event in Francoise's village in Nakivale Refugee Settlement last Tuesday, she was determined to make her own acceptance speech in English, which is her third or fourth language and which she has learned entirely at school.
"I want to be a journalist in the future to teach people about the world and about climate," she said. "I am really worried about what we are doing to our environment with pollution and overheating. Look, you can scarcely see a single tree from where we are standing now."
"I really want to change the world".
Watch Francoise's video report here.
All this year's winning entries can be found here.
Find out more about about the Global Young Journalist Awards.
Find out more about the refugee settlement where Francoise lives.
10 June 2022
Whose Life Will You Celebrate?
Celebration Day writing competition
We're encouraging students and teachers alike to take a pause from their busy lives to celebrate the people who are no longer with us on Celebration Day on 26 June.
We're supporting this brand-new day of remembrance with a Celebration Day Writing Competition, challenging pupils to retell the story of someone inspiring. Now not only can children learn more about those who influenced the people they know and love today, it gives them a real chance to develop their interviewing and writing skills.
Open to children between 5 and 18 and their teachers, this competition is free and easy to get involved with, with resources, interview questions and writing prompts available at teachers' fingertips.
Anyone wishing to take part just needs to find the oldest person they know, and interview them about who inspired them growing up. Then they need to retell their story in a creative way. They'll be marked on whether their story successfully grips the audience and creates an atmosphere, whilst saying thank you to someone special.
The winning entries will be read out on camera by a star-studded collection of celebrity guests – the amazing Harriet Walter, Gemma Arterton and Lennie James.
The free competition for schools is run by The Day in support of Celebration Day on 26 June, the first Sunday after the summer solstice and also offers the chance to win an iPad and £100 Amazon voucher.
22 April 2022
Tackling the literacy gap with free books
The Day partners with UK Reads to raise awareness of child illiteracy in the UK 
Reading for pleasure is the single biggest factor in determining a child's future success. But there are currently more than 413,000 children in the UK who do not have a book of their own.
The Day is joining forces with children's literacy charity UK Reads to tackle this gap. Our subscribers will now be able to request free books for pupils identified as living in poverty and/or being in need of books to keep at home.
The partnership marks The Day's renewed commitment to the Vision for Literacy Business Pledge, for which it has been a signatory for seven years.
The Day will prioritise literacy skills and improve social mobility by taking action through employees, the local community and supporting the national campaign.
Our editor Richard Addis says: "Establishing healthy reading habits at a young age is vital for nurturing a new generation that is equipped with the literacy and critical thinking skills to engage effectively with the world and ultimately make it a better place."
To request books for your pupils, visit www.ukreads.org/book-drop
For more information about UK Reads and the work they are doing to end illiteracy in the UK, please visit www.ukreads.org.
22 March 2022
Take part in important mental health research
Invite your Y12s to participate and get a voucher for you and your students
Virtually every week now we see further evidence of the mental health challenges faced by both schools and young people. Last month a BBC report estimated there had been an increase of 77% in the number of children needing specialist treatment. And we know that the 409,347 children referred to the NHS between April and October last year is just the tip of the iceberg of underlying anxiety and poor wellbeing.
At The Day we are only too aware of how events in the world can also affect young people's mental health. Along with the University of Oxford, we have started work on developing some specialist resources to help schools talk through these issues and also to support young people in developing positive habits of wellbeing. In the future, we also have plans for schools to participate in an exciting research project to help advance the scientific understanding of teenage mental health and wellbeing. There will be more on this at our official launch later in the year.
Right now, we need your help. We would like to be able to talk to some groups of Year 12 students, as well as teachers and pastoral care teams working in KS5, to help us get these resources right. Would you be willing to take part, or to host a group in your school, over the next few weeks? We will be offering £10 vouchers at a well-known online store for student participants and £20 for teachers.
Please email tracey@theday.co.uk to express your interest.
Update: Your response to this has been fantastic, thank you, and our initial recruitment is now complete. We'll post more news on this project here soon!
15 March 2022
Budding critics celebrate World Book Day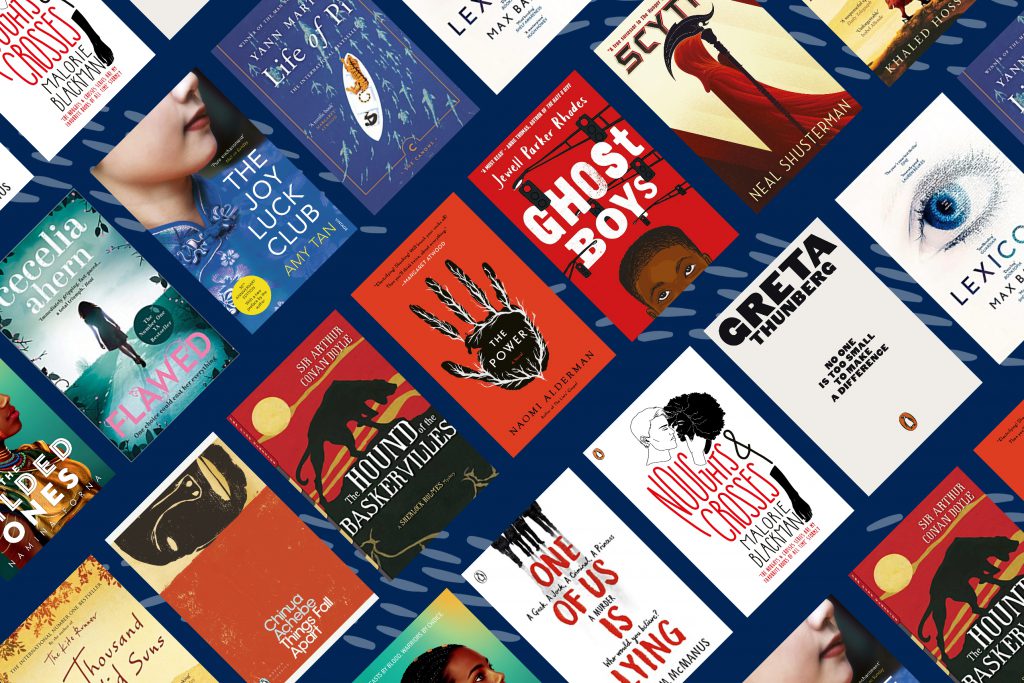 To celebrate World Book Day, we asked students to write reviews of the books they had been reading recently. We had over 50 entries from dozens of schools. Here are our favourites. For reasons of confidentiality, we have not published the names of the reviewers.
The Bone Sparrow by Zana Fraillon
Review: In my opinion, The Bone Sparrow has a very important message and tells the story of a refugee. The author really illustrates the bleakness of the refugee camp and demonstrated the sadness everybody would go through day-to-day. However, Subhi never really dwells on the situations he is put in, he creates a sense of hope and brightens up the book. He uses his imagination to escape from his problems as he has never really experienced what it is like to be free. Eli always sneaks Subhi extra stuff like spare underwear or toothpaste, he even gave him one of the 14 pairs of shoes there were in the whole camp. Although sometimes the structure of the book could get a bit confusing as it changes between Jimmie and Subhi's perspective, I really enjoyed reading about both Subhi and Jimmie. In summary, I loved reading this book and it really hooked me.
Enjoyment:
Plot:
Characters:
Ending:
The Ruby in the Smoke by Philip Pullman
Review: I think The Ruby In the Smoke was an extremely good book. I think this because of how likeable the main character, Sally Lockheart, is. Philip Pullman told the story extremely well and conveyed Sally's emotions in a clear and direct way. Other than Sally, the characters in the book are extremely well thought through, each of them having very distinct personalities. I think Philip Pullman could've improved this book by making the plot clearer and easier to follow, even the story was very well told, sometimes I would get confused by which characters were in which scenes and what each of their motives were at that moment. But, despite these reasons, I still think the book was very well thought through and done extremely well, so in conclusion, I think The Ruby in The Smoke is an excellent book by Philip Pullman.
Enjoyment:
Plot:
Characters:
Ending:
Ghost Boys by Jewell Parker Rhodes
Review: This is a book you just will not put down. It's a story of a young Black boy, Jerome, who is tragically shot by a White police officer who mistakes his toy gun for a real one. Jerome was a 12-year-old boy who never got in trouble and who was a brilliant brother to his little sister and yet he died due to a silly misunderstanding. The story talks about how his friends cope with his tragic death and in much more detail how his family suffered losing such a loved relative. The story is a tragic one about racism, showing that it affects young black boys more than their white peers. It makes me sad to think that two and a half times black people are killed instead of white people. There is a glimmer of hope when Sarah decides to create a website to help raise awareness that black people are being killed even though her father is one of the guilty ones. When Sarah asks her dad if he can help with her website and he agrees it makes me feel happy how he realises the wrongdoing and tries to make it right. There is only one downside to this book which is that the constant switching from when Jerome was alive to when he died can be a bit confusing. Other than this it is a gripping tale for young teenagers looking for a thought-provoking story.
Enjoyment:
Plot:
Characters:
Ending:
The Gilded Ones by Namina Forna
Review: I enjoyed this book because the main character goes through a tough time being a girl. While only being a dystopian novel, it thoroughly covers these issues still going on in today's world. For example; racism, inequality, misogyny and many more problems. When sixteen-year-old Deka reaches the moment her fate is decided, she is hoping for the best as if she isn't "pure" then she will be forced to leave and fight for herself. Fighting for her freedom is going to be a long journey for Deka and it isn't going to be easy. However, she keeps fighting for her rights and proves to people that she isn't "impure". I quite liked that the book was based around people my age as I could relate to it more and understand it. The way that the characters were presented made them feel like they were real people. The message of the book was very clear and the author wanted to make sure that everything was understood and people realised how important having a fair and equal society is. I found this novel very interesting as it had many different elements and plots behind everything. It highlights the importance of eliminating inequality and sexism, as they play a large role throughout the novel. The plot and characters project a clear image of what problems she had to go through. She was separated from her family and hometown because she was "impure". This still applies to today's world as many women around the world still face inequality as they are different or not as important.
Enjoyment:
Plot:
Characters:
Ending:
Scythe by Neal Shusterman
Review: The novel called Scythe by Neal Shusterman is a dystopian masterpiece. It is set in the far, far future where death is practically unheard of, except in the cases that involve Scythes, people above the law that have to forcefully kill people in order to stop overpopulation and to keep life going on as normal. This thriller takes a look into what it is like to be a young apprentice scythe, and how new scythes are selected. It follows the story of two teenagers that are battling to be the next Scythe, however, complications arise when the winner will be forced to kill the other. Now, in a deathless world, it has become an incredible struggle once again, to overcome death. This book is a very good and important read because it sets a certain precedent for the future. It shows that death can not be avoided and that whether it is artificial or natural, it is inevitable. It shows how comfortable life needs to be fully appreciated, even when we take it for granted, and that in order to live a meaningful life, death must always be a part of that.
Enjoyment:
Plot:
Characters:
Ending: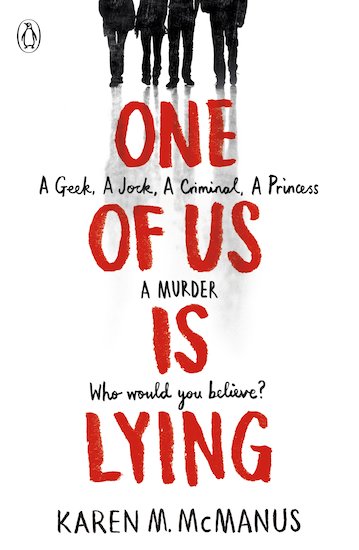 One of Us Is Lying by Karen M McManus
Review: One Of Us Is Lying is a mystery thriller about Simon dying from an allergic reaction in front of 4 teenagers in detention. Suddenly all 4 pupils, jock – Cooper, brain – Bronwyn, princess – Addy and criminal – Nate, are suspects. It becomes more peculiar as Simon is the creator of a gossip platform where he was going to post the squad's deepest secrets in exactly 24 hours from his death. The book documents the murder case and the struggles of being suspected killers in a distinctive high school in America. I believe One Of Us Is Lying is a fantastic read and you should be going to the shops to buy it now! The heartbreak of death mixed in with the thrill of a murder case and a comedic element to add to it, means you don't know if you want to laugh, cry or be serious for every chapter! In conclusion, it is definitely not a book for the faint-hearted and in my view, you should be at least 13 to read it as at some parts I think we all started to get a tissue out! I really feel like it is a fiction book (thankfully) where you can join Bayview High and become immersed into their world and before you know it you have finished the book and are moving on to the superb sequels! The plot is amazing with so many twists and turns, you keep on guessing until the ending. Who do you think the killer is?
Enjoyment:
Plot:
Characters:
Ending:
A Thousand Splendid Suns by Khaled Hosseini
Review: Why read A Thousand Splendid Suns? It isn't relatable so I can't imagine myself in that position? And isn't that what reading is all about- imagining yourself in the book's world? So why read it?' These questions are all valid but in this case completely ridiculous. If you were recommended this book and turned it down, you have missed out on a serious life experience and a real eye-opener. A Thousand Splendid Suns is a book that lets you realise how lucky you are to have the life you have and shows you to be grateful for the way you live. It opens the world of books to a whole new level of inspiring, life-changing and unforgettable books. It shows you that there is so much more to the world than just what we can see, and teaches you multiple things to go forward with life. An example of this could be that you never give up, you keep fighting until the day you die, and you fight not only for yourself but for others. This characteristic is shown in multiple characters throughout the journey that is this book. This book is written by none other than Khaled Hosseini, the author of the bestselling 2003 debut: The Kite Runner. This book has endless awards and outstanding reviews, and I can see why. It describes the life of two women, brave and strong, who stick up for each other and for themselves, in unimaginable ways- these of which I could never imagine myself doing, but this book makes me want to do more things like this. It has inspired me.
Enjoyment:
Plot:
Characters:
Ending:
Flawed by Cecelia Ahern
Review: This book is like marmite. You either love it or hate it. I hate marmite. I loved this book. In a society that values Perfection above everything, due to this maintaining Perfection is a primary focus of all citizens and the Guild living within this dystopian society. Collectively, they punish those who they deem imperfect. Such individuals are branded as Flawed and outcasted from society forevermore. Perfects are afraid to, and in fact, ordered not to, even associate with those deemed Flawed. Moreover, if individuals are discovered to not be Perfect, they are branded like cattle with the marking 'F' for Flawed, pretty harsh if you ask me, but is it different from real life? Aren't we all under the scrutiny to be perfect? This book follows Celestine North. who finds herself in a predicament where her morals and compassion put her in a situation which deems her flawed. I thought that she was an intriguing mix of strong and weak, brave and cowardly, independent and easily led. I liked Celestine, although I was never sure what she would do next, who she would listen to or how she would react to certain events. There was a scene that had me shaking in trepidation, anger and repulsion. I was horrified by the Guild, by society itself, and by Crevan. I was astonished by the sheer brutality of it all, but I couldn't stop reading. I had to force myself to put it down, to step away, to take a breath.
Enjoyment:
Plot:
Characters:
Ending:
The Joy Luck Club by Amy Tan
Review: The Joy Luck Club is a brilliant story of four mothers and their first-generation Chinese-American daughters; two generations of women struggling to come to terms with their cultural identity. Amy Tan writes from the heart, cutting sharp edges with wit, wisdom and delicate precision. From the wealthy homes of pre-Revolutionary China to downtown San Francisco, the novel covers a remarkable spectrum and reveals the private secrets and ghosts that haunt, torment and comfort. Amy Tan shows us traditional Chinese mothers trying to adapt to the new traditions surrounding them, whilst their first-generation daughters try to resist their parents' traditional and formal views on what society should conform to. Amy Tan shows us that she is both a consummate storyteller whose prose manages to be emotionally charged without a trace of sentimentality. Set in 1949, four Chinese women, recent immigrants to San Francisco, meet weekly to play mahjong and tell stories of what they left behind in China. United in loss and new hope for their daughters' futures, they call themselves the Joy Luck Club. "Honest, moving and beautifully courageous," are just a few words described by Alice Walker, a Pulitzer Prize winner in fiction. The legacy of this book will be for us to remember our traditional ways and not forget what our ancestors did in their time and remember that mother always knows best. I most personally recommend this book, it keeps your hands firmly onto it and leaves you wanting more. I don't get this feeling with most books and it is the most exceptional feeling that's why I recommend this book.
Enjoyment:
Plot:
Characters:
Ending:
The Hound of the Baskervilles by Sir Arthur Conan Doyle
Review: The Hound of The Baskervilles, written by Sir Arthur Conan Doyle, is undoubtedly the best Sherlock Holmes novel he wrote. It was published in 1901 and is based on a local legend about a hellhound that haunted the village of Dartmoor in Devonshire. The eerie atmosphere and the mystery grip you, forcing you to turn to the next page and carry on! What I like about this Sherlock Holmes book is that it is Dr Watson, Sherlock's colleague and friend, who plays the main role and unravels most of the mystery without the need of Sherlocks' assistance. This is remarkably different from Arthur's other mysteries as it demonstrates how Sherlock is presented to other characters, which is fairly intriguing. Netflix has an updated version of many of Sherlock Holmes novels, which includes The Hound Of The Baskervilles, with Benedict Cumberbatch as Sherlock, and Martin Freeman as Dr Watson. This film is definitely worth a watch, but I recommend you read the book beforehand as Netflix has altered the ending, which a person watching just the Hound of The Baskervilles episode, won't understand. The Times said,' A wonderful Sherlock Holmes story from its vivid painting of darkest Dartmoor, its undertones of fear of the mind depths, and on to the triumph of the rational.' The unique plot is easy to follow and the well thought out characters are very distinct from each other, creating a quite thrilling ending!
Enjoyment:
Plot:
Characters:
Ending:
The Power by Naomi Alderman
Review: Recently, I read The Power by Naomi Alderman and it was definitely worth it. It was one of those books that get you back into properly reading instead of passively reading over way too many weeks and one of those where you finish it too quickly – but quickly in a good way. It contains girls and women developing the sometimes beneficial and, in most cases, very dangerous power of electricity. The story follows a few character viewpoints and this is done very well as it is very easy to confuse me with multiple, continent-hopping narratives. But each plot was engrossing, they all tied in and you could feel all the characters tumbling to the final end. So yes, the novel was fictional but it didn't make it unbelievable – it was interesting instead of fantastical. Alderman dealt with the question of what would happen if women were the strong and powerful sex and not the 'fair sex' which the males are described as at the end of the book. It teaches us that any human grows greedy with power and that we need both soothing and calm people and forward-thinking, action-taking people in this world and I think that this is a valuable lesson. And for me, I want every book I read to teach me something valuable and this book certainly did.
Enjoyment:
Plot:
Characters:
Ending: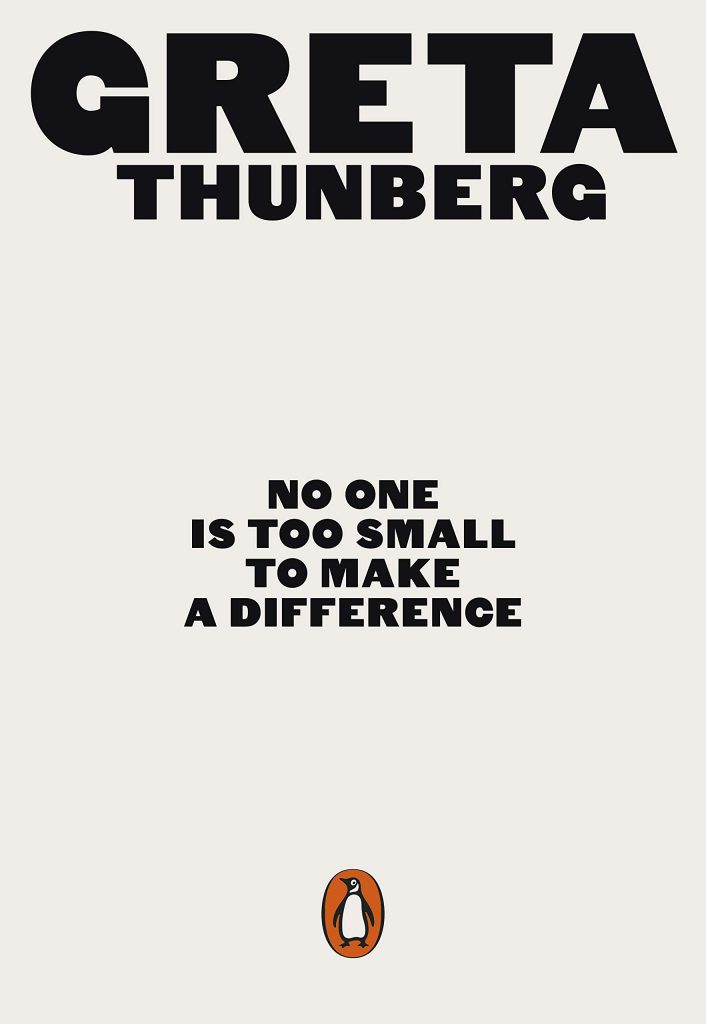 No One Is Too Small To Make A Difference by Greta Thunberg
Review: The world we live in today is rapidly changing, not necessarily for the better. Climate change is affecting the world we call home and it needs to be stopped. Greta Thunberg's non-fiction book, No One Is Too Small To Make A Difference, focuses on how we can stop this near-critical crisis. It contains a collection of Thunberg's history-making speeches. The simplicity of her speeches showed me how anyone could understand the effect we are having on our planet; that anyone can make a difference. It taught me facts, such as how 200 species are going extinct every day! Despite not being a storybook with characters, I believe the plot of Greta's story is about our planet and the deleterious effect climate change has had on it; we are the story's hero who can change its fate. Anyone who reads this book will see the world from a different perspective, therefore we should all read it before climate change is irreversible.
Enjoyment:
Plot:
Characters:
Ending:
Life of Pi by Yann Martel
Review: With a remarkable ten million copies sold worldwide, numerous awards, an award-winning film adaptation and even a west-end presence, Yann Martel's Life Of Pi has garnered a reputation for its fantastical imaginative, beautifully blended with a plethora of deep philosophical ponderings and a fascinating insight into inner workings of both the inhabitants of our planet Earth and the ever-mysterious universe itself. So, naturally, as I began the novel, vaguely aware of its prestige, my expectations were sky-high. The story begins on a bittersweet note when Piscine Motor Patel (aka Pi) and his family decide to leave their life in Pondicherry, India and emigrate to Canada, boarding a huge ship named the Tsimtsum to embark on a three-month journey, with only themselves and the crew for company…and also the entire family zoo's worth of animals. Tragically, the happy odyssey is cut short when a mechanical failure in the night results in the sinking of the ship and Pi is left to fend for his survival in the middle of the Pacific ocean with a lifeboat, an oar, limited supplies, a zebra, a hyena, an orangutan, and a 750-pound Bengal Tiger. Martel's storytelling combines intriguing intellectual detail with incredible description to make the vastly unbelievable plot seem possible, and his lovable protagonist's trek through various shocking twists and turns makes this a must-read for every young adult, or indeed every adult.
Enjoyment:
Plot:
Characters:
Ending:
Things Fall Apart by Chinua Achebe
Review: One of the most informative and breathtakingly unique novels I have read so far is Chinua Achebe's Things Fall Apart. The novel is a prime example of the education a novel can provide. The novel is part of the IGCSE English Literature curriculum and whilst many schools or teachers decide against the novel out of the list offered, due to the lack of education and resources educators have on addressing racism and colonialism in the context of a novel set in 1890s Nigeria, I was lucky enough to get to study the book in depth. I would be lying if I said the book immediately entranced me and 'cured racism' but that's not the point. As I read and reread the novel, analysing each and every chapter for the purpose of my English GCSE, I truly saw the beauty of Achebe's writing which I may have missed out on otherwise. The main educational aspect of the novel was not the passionately and artfully written metaphors or the skilful variation of character; it was gaining the understanding of the power of fiction. I would like to think that I at least began to gain a pinch of understanding of the drastic and inhumane colonisation that our nation is responsible for. As a result, I can now apply this knowledge gained to critically think about deep-rooted racism in our society, as well as my own actions, all thanks to the novel. As Uchendu said in the novel, "there is no story that is untrue."
Enjoyment:
Plot:
Characters:
Ending:
Lexicon by Max Barry
Review: Lexicon review: a fast-paced, intense and gripping thriller about the power of language. Hayden Smith examines whether Barry's 2013 novel earns the right to be dubbed his "most ambitious and spellbinding" yet. Are you into stories boasting an impressive number of twists and turns, ones with high stakes and action-packed scenes – oh, and words? If so, then look no further! Despite initially feeling sceptical to pick up this book, upon reading the first chapter I realised Lexicon was unlike any book I had ever read before – and no, I'm not being dramatic. After immediately being thrown right into the action from the very first page, the tension was already sky-high – and I was truly feeling it. The premise offers something undoubtedly unique and I can gladly say that Barry has delivered in creating a story that holds up to it. A delightful surprise was Barry's effective use of the dual timeline, dual narrative technique (although consider whether this type of storytelling is for you!), making for some genuinely unexpected plot twists. Whilst it may ostensibly read like an adrenaline-fuelled 'WTH' novel (which it certainly is), having the power of words as a key theme in the novel allowed Barry to communicate some deep messages about the role language plays in our society. In conclusion, albeit having a somewhat predictable and underwhelming ending, Lexicon is an outrageously wild ride you definitely don't want to miss out on and, perhaps, worthy of being the most enjoyable thriller in recent memory.
Enjoyment:
Plot:
Characters:
Ending:
Noughts and Crosses by Malorie Blackman
Review: This turbulent tale follows the lives of two lovers who are torn apart by one thing; the colour of their skin. Prepare to be pulled in by the heartache, the joy and the journey that makes this book one of the best. United in their love for each other but kept apart for being a Nought and a Cross. This gripping story explores the individuals, Callum and Sephy, as they fight for a chance to survive in their unequal world. Set in the fictional country of Albion we meet the two families who will take up a special place in our hearts. The Hadleys; a successful politician with a beautiful wife and two perfect daughters with a bright future ahead of them. And the McGregors; a husband and wife always on the breadline with three hungry mouths to feed and multiple tragedies awaiting them. These families connect through their jobs, which allows us to see the two ethnicities working side by side. But things turn sour, as they usually do. With their budding relationship starting to blossom, we follow the fraught relationship against all the odds. Malorie Blackman's Noughts and Crosses is truly a formidable book that allows us to experience a world where the roles within society have been reversed. Immerse yourself in the writing as you start to critique the immorality and ignorance of racism as we can only hope that these dystopian lovers triumph in the end.
Enjoyment:
Plot:
Characters:
Ending:
23 February 2022
Join The Day's Editorial Board
The Day is looking for teachers to form a new Editorial Board that supports the editorial team.
We are seeking ideas and feedback. What issues are your pupils talking about? Is there any news that worries them? How do you use The Day in the classroom? We are looking for three Editorial Board members who can commit one hour a week during term, in exchange for a contract paying £250 per month. The work would involve attending a regular weekly online meeting with the editorial team. In order to apply, you need to be a full-time teacher working in a school and you need to be willing to read The Day regularly.
If this sounds appealing, please send your CV and an email briefly summarising what you would bring to the Editorial Board to ilona@theday.co.uk before midday GMT on March 14th.
22 February 2022
Tina Fey to judge Global Young Journalist Awards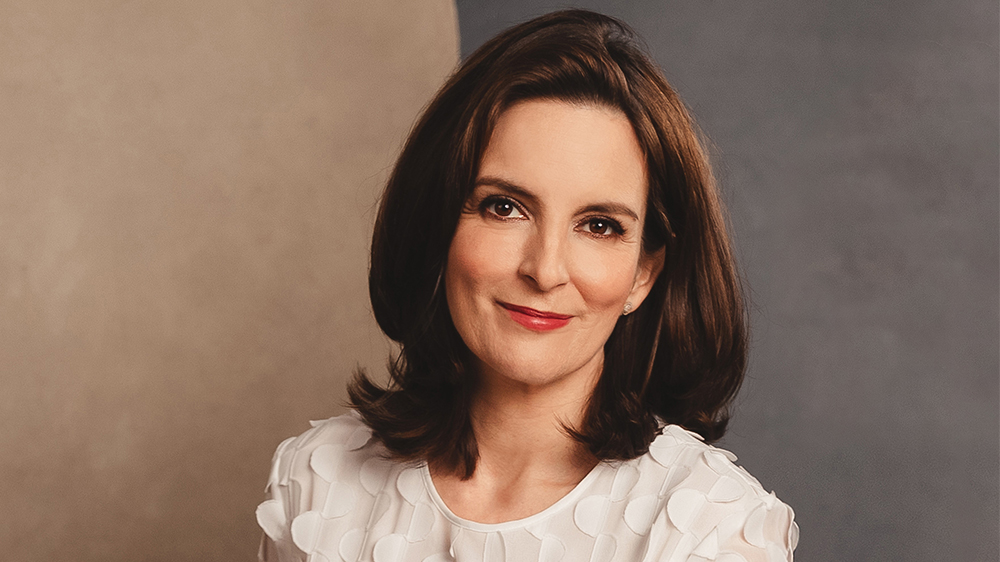 AMERICAN actor and comedian Tina Fey will be a judge in the inaugural Global Young Journalist Awards, which were launched today by Richard Addis, founder and editor of the digital newspaper, The Day.
Tina Fey is best known for her work on American satirical comedy show Saturday Night Live and she said she was delighted to join the panel which will assess contributions from the next generation of journalists.
"There has never been a more important time to get young people involved in truth-seeking. It is vital for our future that the journalists investigate without fear or favour and this competition is an excellent way of inspiring children to get involved" she said.
New competition is looking for the reporters of the future
The judging panel also includes TV broadcaster Ayo Akinwolere, the BBC's gender and identity correspondent Megha Mohan, the FT's top data journalism developer Ændra Rininsland and The Guardian columnist Afua Hirsch.
The competition is open to students aged 18 and under and will give ten awards, as listed below. Each category is open to work in any medium.
1. Campaigning journalist of the year
2. Interviewer of the year
3. International journalist of the year
4. Political journalist of the year
5. Mental health journalist of the year
6. Environment journalist of the year
7. Science & technology journalist of the year
8. Race & gender journalist of the year
9. Sports journalist of the year
10. Climate journalist of the year (primary only)
The aim of the awards is to showcase a variety of voices and encourage young people to report on what matters to them.
Richard Addis said: "Responsible journalism, telling the truth about the world we share, has become one of the heroic endeavours of our age. These awards aim to light a spark in thousands of young people and inspire a new generation of great reporters, photographers and editors."
Award winners will have their words, video, photo, graphic or podcast published on The Day's website and be given the chance to connect with role models from the world of media and current affairs.
Winners will be invited to join The Day's Student Advisory Board for a year, while winners and runners-up will be offered a day's work experience in a national newsroom and receive trophies.
The Day is a digital newspaper for use in schools and colleges. It has a daily average circulation of 378,000 students, the largest readership among those aged 18 and under of any news title. Over 1,300 schools are subscribers.
Teachers can download the Awards entry pack at www.theday.co.uk/gyja2022. Winners will be announced at a live virtual ceremony in June.
Competition sponsors include The Fairtrade Foundation, The Edge Foundation, Oddizzi, Brainwaves, the National Literacy Trust and Hello World.
For more information you can email gyja@theday.co.uk