Empowering students with BrainWaves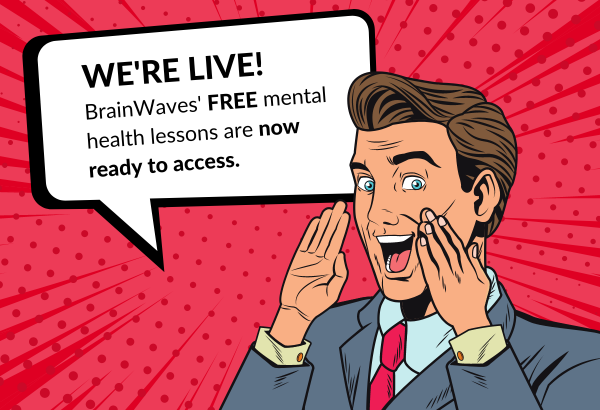 Get ready to take your teaching to the next level with the launch of BrainWaves' free mental health lesson resources.
Written in collaboration with experts, and based on in-depth focus groups and research, these evidence-based lessons include lesson plans, downloadable resources and detailed guidance for teachers. 
With the aim to develop and improve mental health literacy in schools, the lessons will initially be available for students in Year 12 (ages 16-18) before other years are added to the programme. In time, they will be available for all secondary school students.
Today marks the launch of BrainWaves, a global initiative that promotes mental health and wellbeing for young people, from The University of Oxford in partnership with The Day and Swansea University. Its goal is to help scientists gain a deeper understanding of the adolescent brain while providing high-quality, evidence-based advice and interventions to teachers. 
This includes five lessons focused on mental health, covering the teenage brain, sleep, boosting your mood, talking about mental health and managing stress. The lessons are designed to help students understand the science of the teenage brain and develop strategies to promote positive wellbeing. They have been developed by The Day in collaboration with subject experts at The University of Oxford's Department of Education.
In addition to providing free lesson resources, BrainWaves also offers a free webinar series that will support teachers and enable them to better understand and support the mental health of their students. Some of the topics covered in these sessions include The Teenage Brain, Sleep and Teenagers, Boosting Your Mood, Having a Conversation About Mental Health, and Managing Stress.
The initiative recognises the importance of early intervention and aims to equip teachers with the necessary knowledge and skills to identify and address mental health concerns before they become more serious. By providing teachers with science-backed advice and practical strategies, BrainWaves hopes to promote a culture of open discussion around mental health in schools and ultimately improve the wellbeing of young people.
Mental health disorders are increasing fastest in young people (aged between 13 and 24). In the UK, between 2017 and 2021 the proportion of boys (17-19 years) with a probable mental health disorder rose from 7.0% to 10.3% whilst the proportion for girls rose from 13.4% to 24.8% (source: NHS). This is consistent with global trends, making adolescent mental health a growing worldwide crisis.
Establishing a groundbreaking partnership between scientists at the University of Oxford, educational publisher The Day, and Swansea University, this initiative aims to revolutionise scientific research, school teaching, and young people's awareness of mental health and wellbeing. This innovative programme aims to transform the way we think about these critical issues by bringing together two fields that are often disconnected.
Professor of Adolescent Mental Health at the University of Oxford, Mina Fazel, has said regarding the importance of this initiative: "The collaboration with the education sector is vital to the success of the programme. We will be working with schools to create a research cohort from a diverse group of UK secondary schools to learn more about the adolescent brain."
The Day's Julian Turner is the Director of Education at BrainWaves. He said: "Working closely with schools, we are providing cutting-edge, evidence-based educational resources for teachers and students. Over time we will be refining these to reflect all the new evidence as it emerges. Perhaps most exciting of all is that we will be empowering young people to learn about mental health." 
The free resources that will be available for schools include: 
Webinars

for teachers about the teenage brain, the latest science, guidance, and insights about managing students' mental health issues and about participation in the programme.

Lesson materials

to use with students. These age-appropriate lessons will equip young people to have mental health literacy. This will include understanding their own brains and developing strategies to manage their mental health and wellbeing. 

Schools will be able to

enrol

as participants in the BrainWaves programme either to use the lessons – or as research schools, providing much-needed information such as questionnaire responses and other data.