Child refugee wins climate journalism award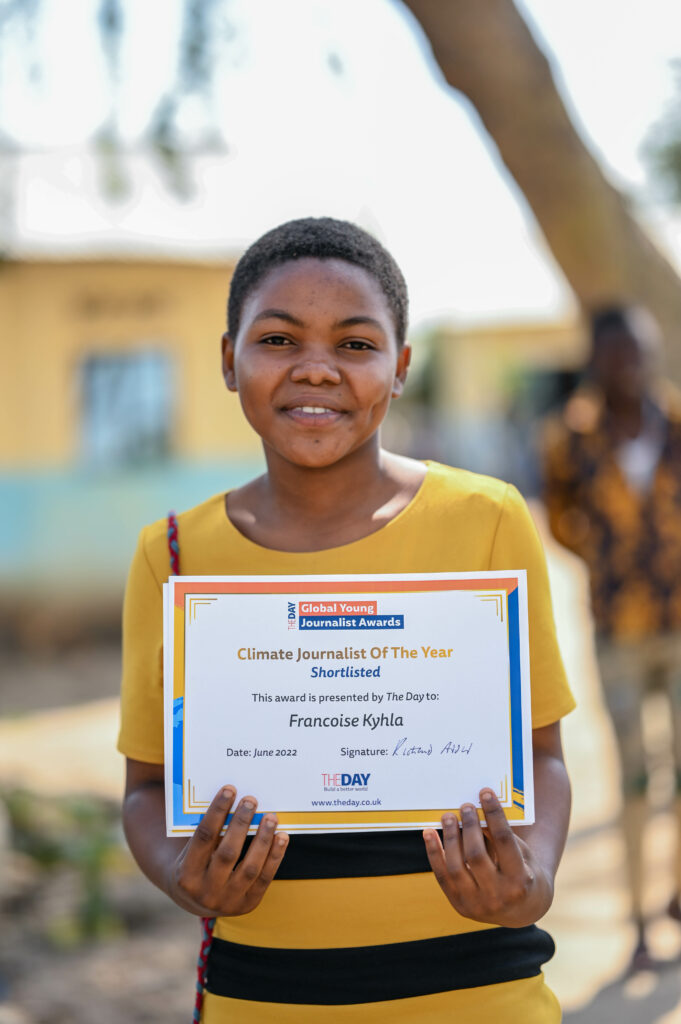 A child refugee living in Uganda has won a prestigious global journalism award against competition from some of the most expensive private schools in the world.
All ten categories were won by girls, though entries came from an almost equal mix of girls and boys.
Francoise Khyla, aged 13, a refugee from the Democratic Republic of the Congo, won the Climate Journalist of the Year category last Friday in the finals of the 2022 Global Young Journalist Awards.
Though still at primary school in the settlement, her entry was a passionate and articulate video urging her fellow refugees in Uganda's vast Nakivale Refugee Settlement to clean up plastic waste and plant more trees.
She now wants to go on to a career as a television reporter.
She wrote the script herself in English during the evenings after school using what she describes as "my own ideas that I thought myself". She learned the text by heart and performed it in a single take to a phone held by her mentor Augustine Rusagara, 30, a former security officer and now a community support officer for the charity Hello World.
The Global Young Journalist Awards were launched by The Day, a daily online newspaper for schools, for the first time this year. Entries were received from over 500 children from countries including Cyprus, Czech Republic, Turkey, the US, the UAE, Zimbabwe, Uganda, India, China, Spain, Italy, Thailand, Singapore and all parts of the UK.
The award for Francoise Khyla, the only one in the Global Young Journalism Awards for children at primary school, means her video is being championed by awards judges including Tina Fey the US comedian and actress, Damilola Ogunbiyi the UN secretary-general for sustainable energy, broadcaster Afua Hirsch, Sky TV's science and technology editor Tom Clarke, and BBC World Service gender and identity correspondent Megha Mohan.
She will get a week's work experience in the newsroom of the Uganda Broadcasting Corporation in Kampala.
Her trophy and certificate will be on show in the three-room brick and mud house that she shares with her parents, three brothers and two sisters. The family has no mobile phone, no electricity, no transport and no running water. The UN gives an allowance of under £3 a month per person for all needs including water, food and shelter.
"Some days we eat. Some days we don't." says Francoise. "Sometimes I am hungry."
Most days, she is up at 6:00 to wash plates before walking to her primary school in the settlement by 7:30. She comes home at 12:30 for a lunch of matoke, mashed green bananas before returning to school at 1:00. Home by 4:00 she spends the rest of the day revising before washing her uniform and leaving it out to dry for the morning.
Her achievement is all the more remarkable since she was competing against students from some of the most privileged backgrounds in the world.
Other awards this year were won by UK students from some of the country's leading private schools where annual fees for a single pupil exceed £20,000 a year.
These included London schools Haberdashers' Girls' and Francis Holland and St Helen's Northwood. Outside London, students from Bedales, Dame Allan's School Newcastle and West Buckland School in Devon all won categories.
International students who won or were runners-up entered from some of the world's most prestigious private schools including Escuela Bilingüe Internacional in Oaklands, California; GEMS Cambridge International School in Abu Dhabi; Peterhouse Girls' School in Zimbabwe and TLC School in Cyprus.
At a live prize-giving event in Francoise's village in Nakivale Refugee Settlement last Tuesday, she was determined to make her own acceptance speech in English, which is her third or fourth language and which she has learned entirely at school.
"I want to be a journalist in the future to teach people about the world and about climate," she said. "I am really worried about what we are doing to our environment with pollution and overheating. Look, you can scarcely see a single tree from where we are standing now."
"I really want to change the world".