Meet Build the Change Tuesday
Are you ready to Build the Change? Every Tuesday, The Day and the LEGO® Group are bringing you a sustainability resource to instantly bring children up to speed on sustainability news, debate the issues, and create innovative solutions, in a hands-on way.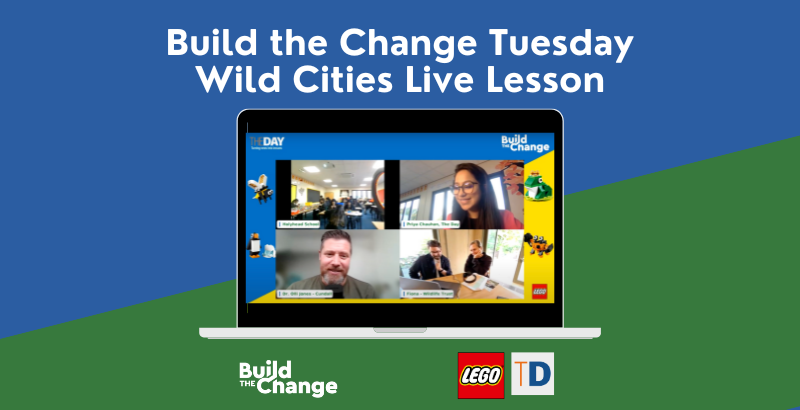 Wild Cities Live Lesson
Are you ready to unleash your creativity and design a wild city building for the future? Rewatch our Wild Cities Live Lesson on-demand!
Get Build the Change Tuesday for FREE
Free weekly resource
Build the Change Tuesday is our free, weekly sustainability resource for 8 - 13 year-olds, designed for busy teachers looking for a quick, preparation-free activity. This sustainability resource created in partnership with the LEGO Group and The Day allows students to think critically about, discuss and debate a new sustainability issue every single week. It's ideal for settling students into the day, and developing reading, comprehension and discussion skills. 
Have your designs featured online
The Build the Change sustainability resource also challenges students to use their imagination and hands-on skills to 'Build the Change' for the future using LEGO® bricks or accessible craft materials. Complete the Build the Change challenge each week using LEGO bricks or bits of recycling, then take a photo of it and get a grown up to upload the photo to our online LEGO gallery for all to see! Be inspired by other builders by viewing the photo gallery here.
Congratulations to our competition winners!
Well done to everyone who entered our Habitats design competition!
Head to our homework portal
Build the Change Tuesday is a sustainability resource brought to you by The Day and the LEGO Group which forms part of our News Detectives programme, a no-fuss daily dip into the news for ages 8 – 13. A different theme every day of the week.