The maths teacher who built his own solar car.
Is this the future of travel? A man in Kashmir, India, has made his own solar-powered car on the cheap to "give a luxurious feel to the people".
The car of the future has wings. But that is not because it's a flying car. This might be better: it is a solar-powered car. The wings of the car are its doors. These open out upwards to ensure that the solar cells catch as much sunlight as possible.
Bilal Ahmed, a maths teacher from Srinagar in Kashmir, in India, made the car, festooned with solar panels, because he wanted green technology to be available to everyone.
"Cars like Mercedes, Ferrari, BMW are just a dream for a common person. Only a few people are able to afford it," Ahmed said. "I thought of something to give a luxurious feel to the people."
Ahmed spent 11 years and about £15,800 building the car himself. While there have been solar cars before, most of them have been built in labs or by car companies.
Ahmed made his model without any money from other people. But that does not mean he would not like any.
"When I began the project and even after I completed it, no one provided me with any financial assistance; if I would have got the necessary support, perhaps I would have been India's Elon Musk," he told reporters.
Ahmed hopes to start his own car company, which could use his design to mass-produce affordable solar powered cars for everyone. The company will be called YMC after his children, Yosha and Maisha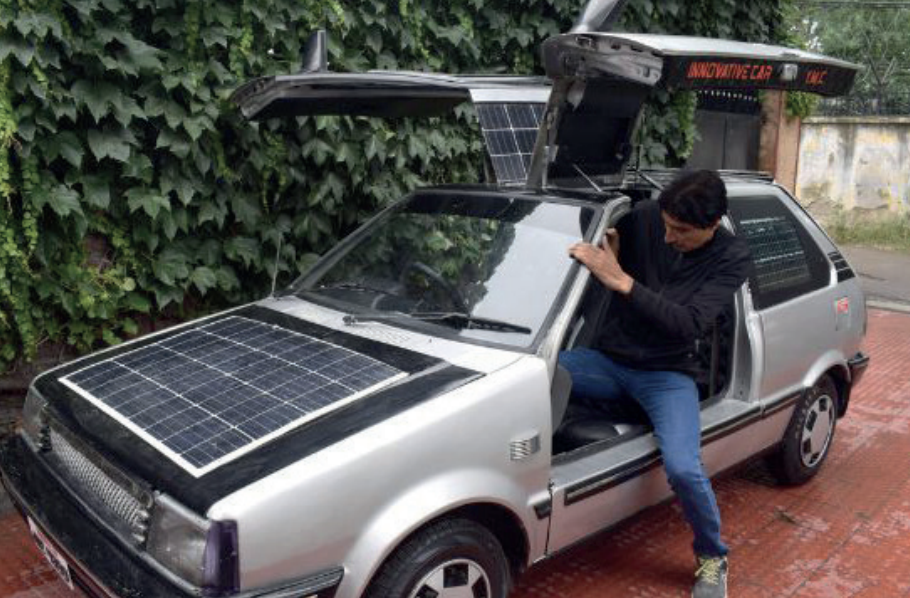 Build the Change Challenge
For this challenge, you will need to design your own solar powered car. Step 1: Think about your design! You need to have enough space for solar cells, but also to be a good shape for moving against the wind. Look at some real life solar car examples! Step 2: Build the change! Draw your solar-powered car! If you have time, why not make a real-life version out of LEGO® bricks or bits of recycling.
See what other builders made