The 'rubbish' superhero waging war on litter.
Is cleaning the planet everyone's job? In Osogbo, Nigeria, a friendly neighbourhood "Spider-Man" sets a heroic example battling the city's waste problem.
Spider-Man swings a bin bag over his shoulder. He is on a mission to clean up the city.
This "Spider-Man" does not have a secret identity. His name is Jonathan Olanlokun. He patrols the streets, not of New York, but his hometown of Osogbo, in the southwest of Nigeria, in the costume of the iconic superhero.
His origin story is the catastrophic waste problem in Osogbo. Jonathan was appalled to see the rubbish piling up. He reached for a rake and a bag and began cleaning.
But Jonathan knew he could not beat waste by himself. Only a superhero could do that. By dressing as Spider-Man, Jonathan raises awareness, urging others to help out.
"I started wearing the Spider-Man costume and I started having positive results." People have started taking him seriously.
Nigeria's local governments do not have the infrastructure to deal with waste. That is why ordinary people need to take a stand, says campaigner Anthony Adejuwon. "We cannot all wait until governments do something for us, we should begin to even teach the government the right thing by ensuring that we take that step that government itself can now emulate."
Waste is not just unsightly. It can be dangerous to the planet and people's health. Humans produce 2.24 billion tonnes of solid waste a year.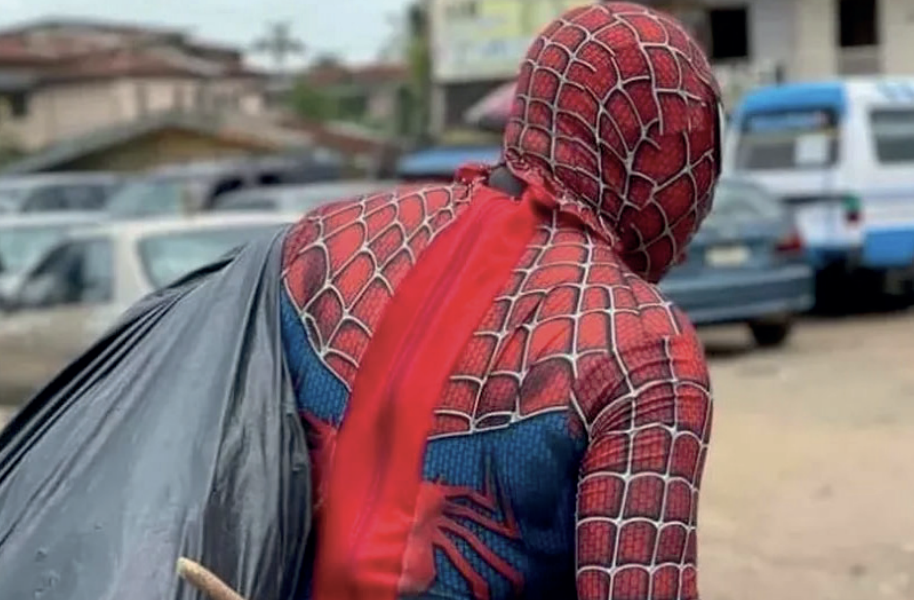 Build the Change Challenge
Finding out what we can reuse and what cannot be recycled is a difficult task. Can you design a special device to sort the useful things out of rubbish? Step 1: Think about your design! What would it need to find the treasures in a pile of rubbish? Would it look like a type of car or a big machine? Step 2: Build the Change! Draw your treasure-finding tool. If you have time, why not make a real-life version out of LEGO® bricks or bits of recycling.
See what other builders made