The surfers fighting to save the waves.
Are there too many people? A huge rise in sewage dumping in Britain's rivers and seas has campaigners pointing to a wastewater system that cannot cope.
In surfer slang, "sick" means good. But when the waves you love are making you ill, that is the wrong kind of sick.
Surfers Against Sewage (SAS) are a group that campaigns for cleaner seas and rivers. Now the surfers' mission is more urgent than ever. That is because the UK is facing a sewage crisis.
In 2022, 1.7 million hours of effluent flowed into the waterways. That is about 824 raw sewage spills a day!
SAS built an app for people to report getting sick after being in the open water. In the last year the number of people reporting getting sick doubled.
The sick-making sewage comes from storm outfalls. When there is heavy rain, these drains carry the rain and sewage out to the open water together.
The UK sewage system was built for a population half the size it is today, so the companies argue that this is the only way to stop sewers from getting blocked up.
But SAS point to the rise in "dry spills", when this network is used even when there is no heavy rain.
They say the water companies have not spent the money they should have on upgrading the creaking infrastructure. Instead, they paid their shareholders £965 million in dividends last year.
To raise awareness, SAS has created a surfboard made of sewage, symbolising a situation that stinks.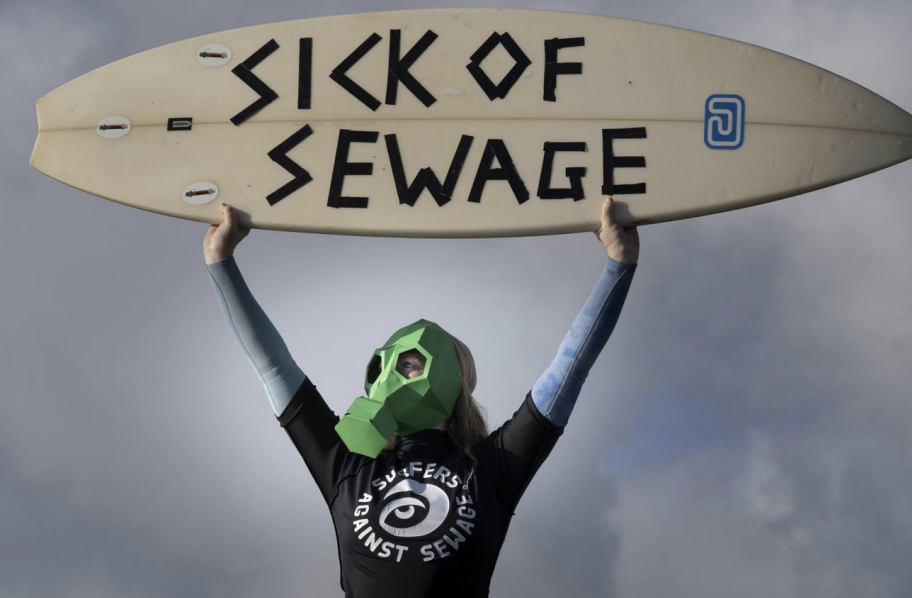 Build the Change Challenge
It is not only sewage that is polluting the sea. In this challenge, you will come up with a new device to help keep the rivers and seas clean. Step 1: Think about your design. Could you come up with a device that will filter the water, or a giant net to stop pollution reaching the sea? Step 2: Create your design! You can draw a picture of your device, or if you have time, make a real life model using LEGO® bricks or bits of recycling.
See what other builders made